FRELO Blaze Master N and FRELO Blaze Master S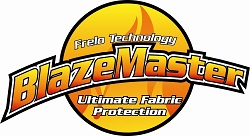 These two products are used in providing a fire retardant to natural and man-made fibers. These products can be used on ready-made garments or applied to fabric as it is being made into garments or upholstery. The products contain no skin irritants. FRELO Blaze Master N is a water-soluble product specifically formulated for cellulosic-rich materials. Virtually any textile can be protected effectively and economically with FRELO Blaze Master N and FRELO Blaze Master S flame-retardants, whether you prefer coating, spray or pad applications. Frelo Blaze Master N and FRELO Blaze Master S flame-retardants feature neutral pH, excellent thermal stability, contains no acids or halogens. FRELO Blaze Master S flame retardant is a water-soluble additive that can be applied to a wide range of synthetic and cellulosic fabrics to prevent flame spread and after glow. FRELO Blaze Master S flame retardant may be used to treat a wide range of fabrics containing acrylic, cellulosic, cellulose acetates, polyamide, polyester or wool fibers, as well as blends of these fibers. Not suitable for fabrics containing more than 70% acrylic fibers. Frelo will soon announce another breakthough in fabric treatment that will create a new way of thinking of fire retarding.

FRELO Blaze Master is a proprietary formulation that retards fire, stains, mold, mildew and fungi infestation. It can be applied as a spray or mist. FRELO Blaze Master is designed to help protect the home from the common threats for fire in addition to providing an added measure of stain resistance.
FRELO Blaze Master forms a shield that penetrates the surface and is effective on fabrics and natural materials. FRELO Blaze Master is not effective on glass or plastic products. FRELO Blaze Master helps maintain a healthier environment on a daily basis, year after year, while protecting your furnishings.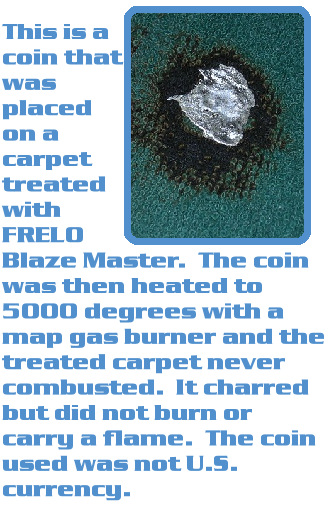 FRELO Blaze Master is non-flammable, and helps make the treated material non-flammable. Under certain or extreme conditions, regardless of the treatment process, no material is entirely fireproof, stain proof or fungi proof. However, FRELO Blaze Master has proven to be an effective deterrent after years of research and application. FRELO Blaze Master contains no toxic chemicals and is planet friendly. It is colorless and odorless and causes no known allergic reaction.

For more detailed information about FRELO Blaze Master, download our brochure or call our office at (870)777-7637. If you still have questions email us and we will be glad to answer any questions you might have.